WordPress database error: [Table './db10480810@002dichdigital/id_postmeta' is marked as crashed and last (automatic?) repair failed]
SELECT post_id, meta_key, meta_value FROM id_postmeta WHERE post_id IN (3752) ORDER BY meta_id ASC
Die neue Konsolen-Generation ist schon ungefähr ein halbes Jahr am Markt, aber so richtig konnte ich mich noch nicht begeistern lassen, um mir eine Playstation 4 oder Xbox One anzuschaffen. Wie so oft bei der Einführung neuer Konsolen-Hardware, fehlen noch die überzeugten Spiele, die Must-haves. Hinzu kommen die Lieferengpässe, die speziell die Playstation-Fans davor zurückschrecken lassen, sich verfrüht eine überteuerte Konsole zuzulegen. Wie bei jeder anderen neuen Technologie ist man meist gut damit beraten, ein Jahr ins Lande ziehen zu lassen, bevor man zuschlägt. Gerade bei Konsolen ist das nämlich die Zeit, wenn endlich auch genügend neue Titel in den Regalen der Spieleverkäufer stehen, die die neuen grafischen Möglichkeiten überhaupt erst annähernd ausreizen werden.
Deswegen werde auch ich mindestens noch bis Herbst 2014 warten, bis ich mir eine neue Konsole zulegen werden. Denn die PS4 möchte ich wieder zum offiziellen Preis kaufen können und nicht für knapp 100 Euro darüber. Interessante Rennspiele, wie das schon im Bundle angebotene und dann wieder verschobene "Drive Club" von Sony oder "The Crew" von Ubisoft werden dann hoffentlich erhältlich sein. Auch im Ballsport-Bereich wird mit FIFA 15 die zweite Generation des Fußball-Klassikers auf der PS4 erscheinen und sicherlich noch runder laufen als FIFA 14.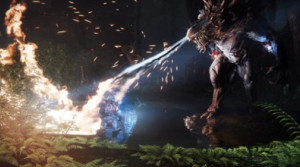 Auch im Action Bereich sieht es für meinen Geschmack noch etwas mau aus. Neben den Platzhirschen "Call of Duty Ghosts" von Activision und "Battlefield 4" von EA ist noch "Assasin's Creed IV" von Ubisoft zu erwähnen, dann wird es auch schon mau. Gespannt warte ich da auf die Umsetzung von "Diablo 3" von Blizzard Entertainment für die Playstation 4 und "Evolve" von 2K. Letzteres verspricht vor allem im Multiplayer Genre für neuen Wind zu sorgen, denn das Konzept ist ungewöhnlich. Ein Spieler tritt gegen vier Gegner an. Das klingt im ersten Moment unfair, wenn ich mir den Trailer anschaue, ist es aber alles andere als das. Denn die vier Spieler kämpfen gegen ein übergroßes Riesenmonster.
Grafisch fährt "Evolve" einiges auf. Es basiert auf der Cry Engine vom deutschen Entwickler Crytek und wird unsere neue Konsolen damit sicherlich zum Glühen bringen. "Evolve" wird von Turtle Rock Studios entwickelt, die auch "Left 4 Dead" erschaffen haben. Was gute Action bedeutet, wissen die Macher also. Wenn man sich für die Vierergruppe der Jäger entscheidet, kann man als Trapper, Support, Assault oder Medic spielen. Man hat Zugang zu einer Menge mächtiger Waffen, um das Monster zur Strecke zu bringen, welches sich wiederum seiner unglaublichen Kräfte bedienen kann, um den Jägern ordentlich einzuheizen.
Das Spielprinzip verspricht jede Menge frische Multiplayer-Action. Ich kann mir schon vorstellen, wie heiß es hergehen wird, wenn man zusammen mit vier Kumpels ein Monster, gespielt von einem fünften Kumpel, erledigen muss.
"Evolve" wird für die Xbox One, PlayStation 4 oder für den PC erhältlich sein und im Herbst 2014 erscheinen, passend zu meinen Plänen zum Kauf einer neuen Konsole. Es wird hoffentlich ein heißer Herbst! 🙂
Weiter Trailer und In-Game Videos gibt es im Evolve YouTube-Channel.
Artikel gesponsert (aber selbst geschrieben)